I met up with my Wisconsin email buddy Pam at Table Rock State Park recently. We were lucky enough to get great weather. Not a camping trip, we had rented cabins; she was traveling with her son. It was great to have a chance to talk in person and enjoy the scenery.
I am not doing quite as much hiking these days as I used to due to some knee problems (and, well, getting older...), but luckily there was a waterfall very near to the cabins and so we headed down there one afternoon. Pam had already photographed it once but wanted to get some more shots. I was thrilled with this since I have not had a chance to get moving water with the new camera and so I hadn't practiced with the settings. I also have switched from a tripod to a monopod, which I am enjoying very much--it's considerably lighter to carry and easier to set up.
Here's one of the photos I got of the falls: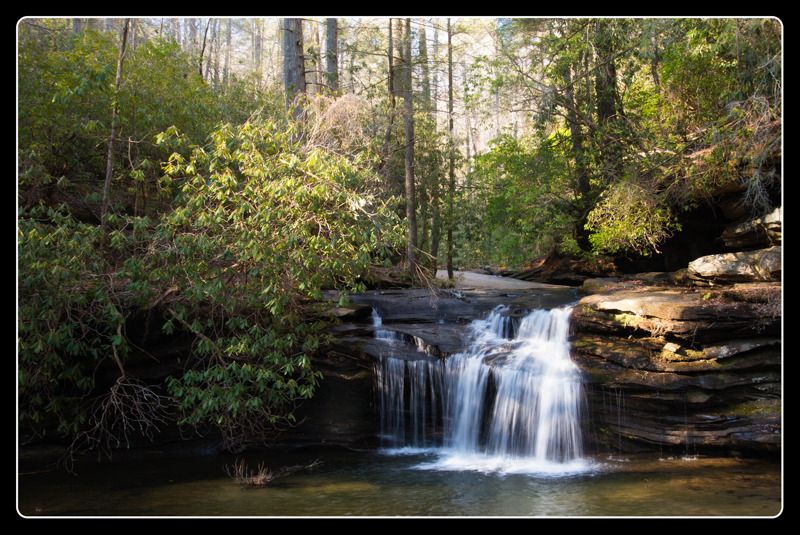 The thing about falls like this is that really, after that first picture, except for moving to a different location, which in this spot would only be a few feet right or left, all the rest of the photos are going to tend to look alike. I had a chance to use different shutter speeds and did put the falls in different spots of the photo, but over all, my pictures from that session pretty much all look alike. The one shown above is a good representation of all of them.
However, we decided to go back a little later in the day to see what the change in lighting would bring. Falls still look the same, but the lighting does make a bit of a difference. So I am including a picture very similar to the one above, but maybe with enough variation to be worth seeing.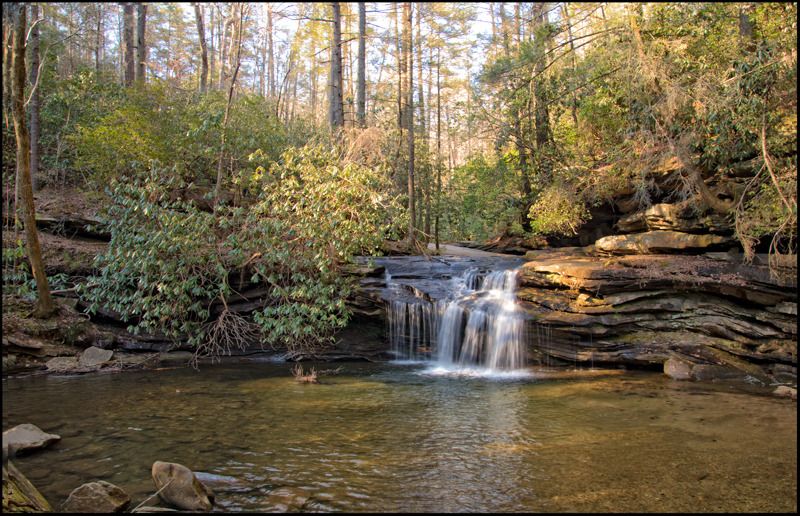 And so those are my photos from the trip. This is not the prettiest time of year.
I'm not sure how you got to this post unless I personally sent you the link. This blog, along with my others, has been pretty sparse for a while now. Soon we will have been in NC for a year, and hopefully will be getting out a lot more and I will be able to get more photos of the beautiful scenery here. We have found a few new places to paddle this summer, and I have found some campgrounds to explore. So if you are a long-time reader of this blog or my others and have come here to read this, thanks for sticking around! Don't go away!