We finally made enough progress with unpacking that we could take some time to explore our new home area! I had read about Cliffside Recreation Area and wondered if it might be a possible paddling spot. So we decided to head out on 64 toward Highlands and explore that and a waterfall that we had missed on our last trip along that road.
Cliffside is a beautiful park-like place (though not for paddling, more on that later). We had it all to ourselves. Since we had been climbing in altitude to get there, the temperature was noticeably cooler. The mountain laurel are in bloom and are plentiful here.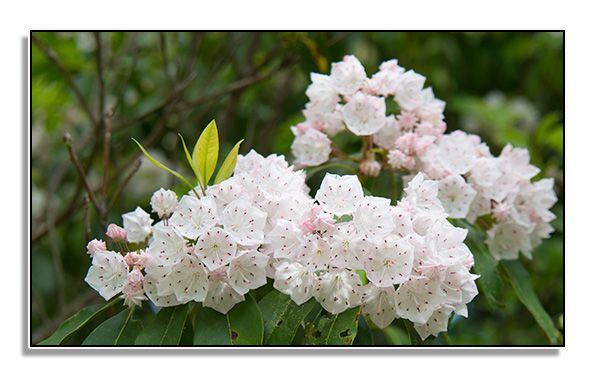 We followed a very short path from the parking lot to the lake.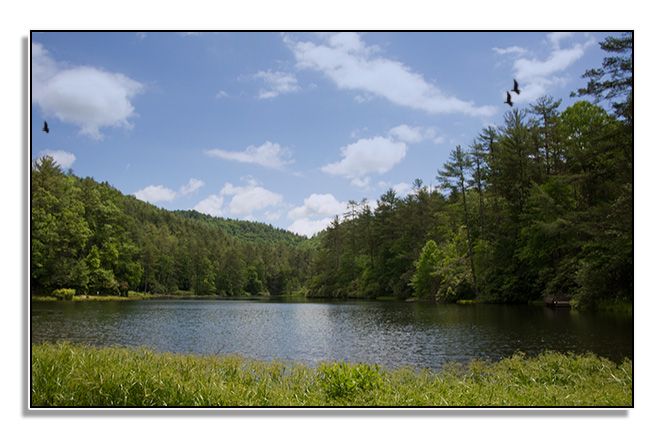 There is a wonderful mile-long trail around the lake, so we decided to walk that (there are other, longer, trails there as well). The sun was occasionally behind clouds, and the trail is also very shady. I loved the look of this spot of sunlight ahead of us.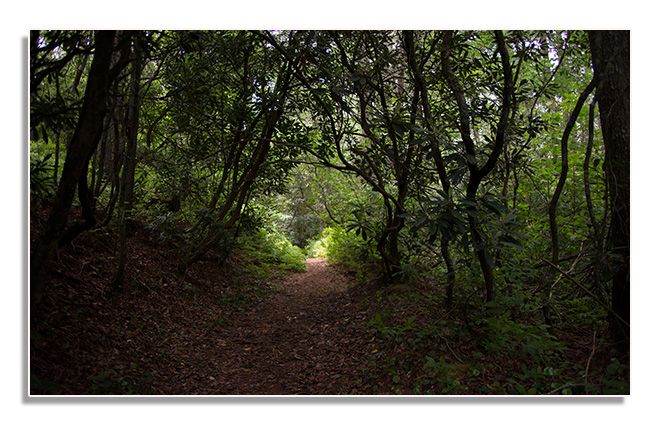 They have a large sign at the lake prohibiting boats or flotation devices. Seemed kind of odd from our initial view of the lake. However, about a third of the way around it, we discovered that the water is running out of it at a man-made dam. A boat or a float would basically just fall over the edge onto rocks!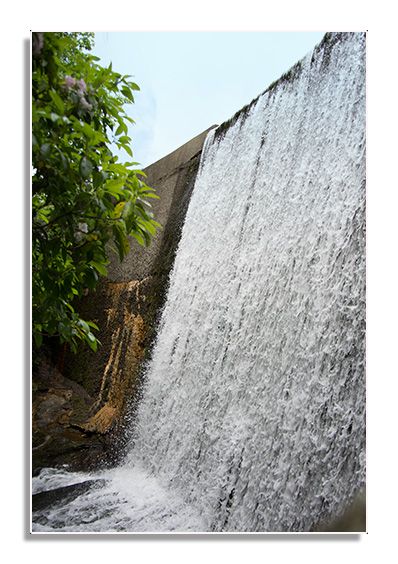 I can't wait to see this place when the rhododendrons are in bloom, since they line the trail in big bunches. This one is still just putting out new leaves.
About 3/4 of the way around the lake (or 1/4 coming from the other direction...) we came to a wonderful grassy area with several picnic tables and grills. There were also at least two functioning water fountains, which I had never seen in any such area in Florida.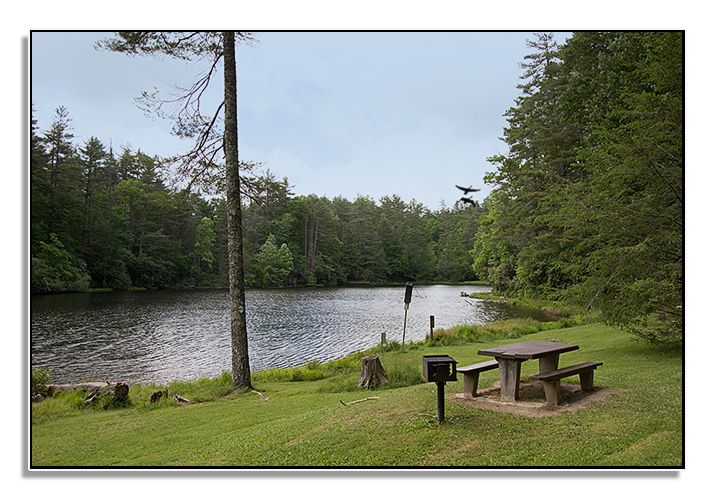 Across the water, the mountain laurel made a wonderful backdrop.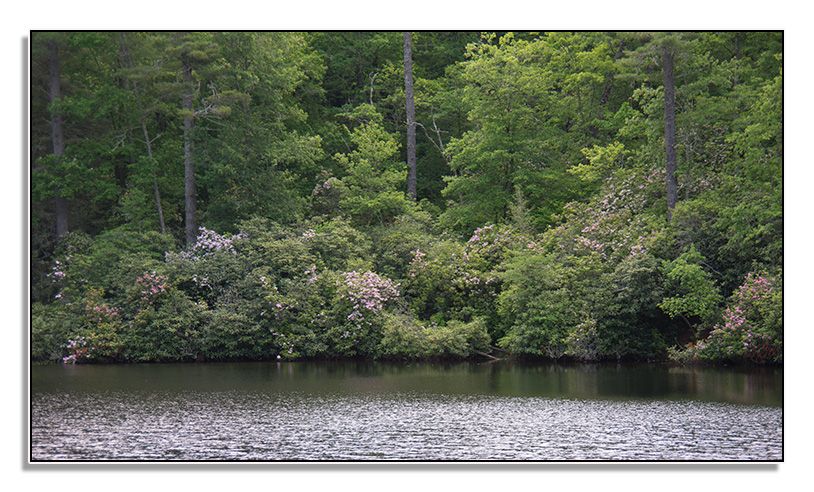 We then continued on our drive to Dry Falls. We were last there in February, when it was too cold to want to walk all the way down to the falls (a nice paved path with lots of steps). I honestly wasn't expecting much of this waterfall, and was utterly amazed at how big it is! Very high, very loud, and you can walk behind it!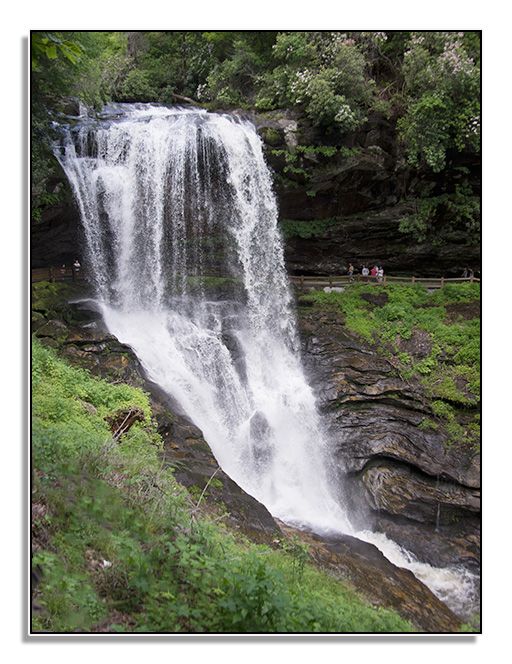 It was so wet behind it that I didn't take the camera out from under my shirt, where I was trying to keep it dry. But I did get a couple of pictures of the top of the falls. I love that spot where the water just starts its descent.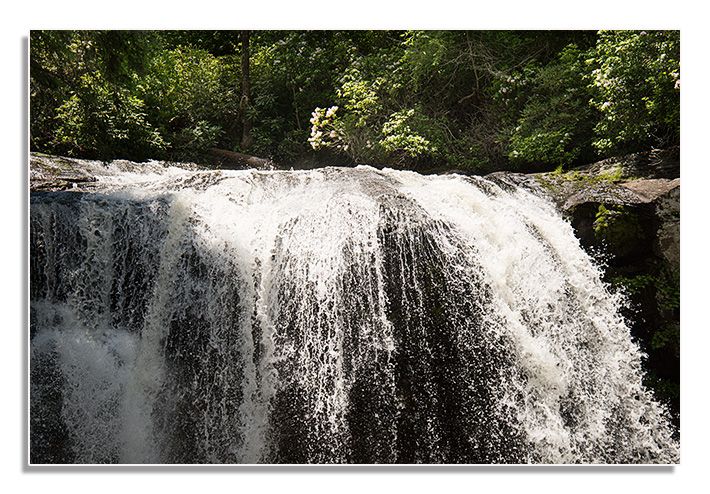 ---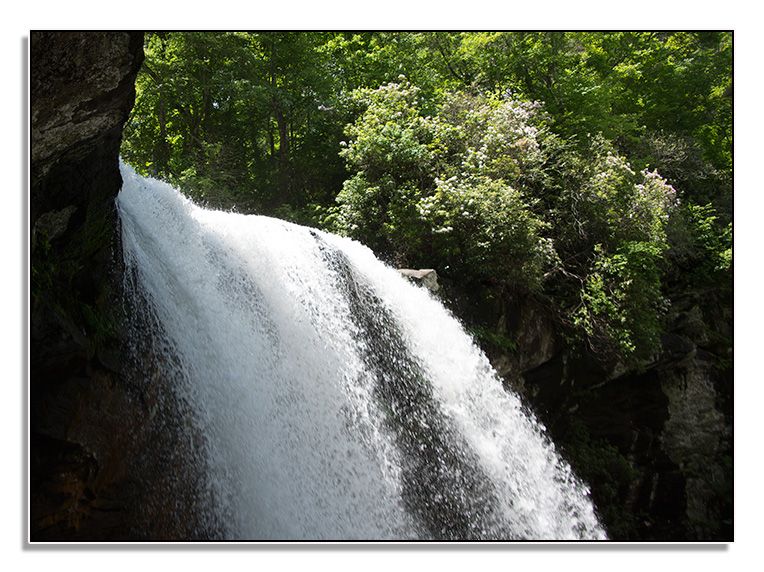 This is where it goes after it tumbles over rocks and then settles down--into the Cullasaja River.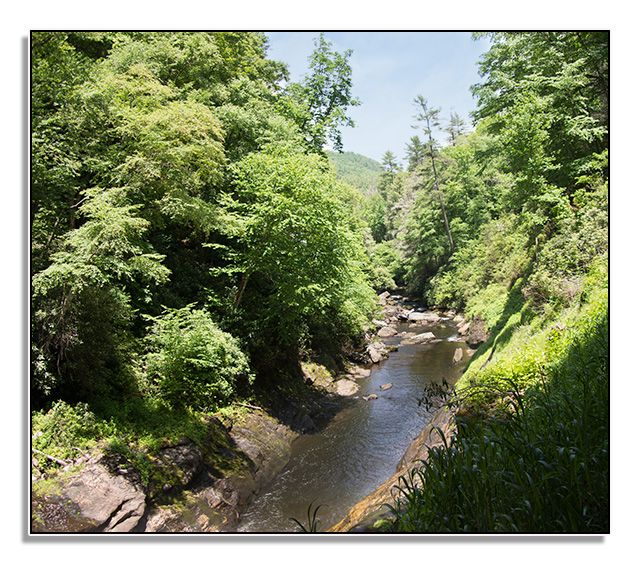 That same water flows very close to our house; we have a branch stream on our property that also flows into it.
We then continued on to Highlands and checked out the various shops and restaurants. That's a place I will have to revisit sometime, maybe sans husband...
Cliffside is having a bird-of-prey show next weekend, which we plan to attend. Should be great photo opportunities! Stand by.