I've been wanting to play with photographing water drops for a long time and today was an ideal day to finally get around to it. I needed a clear glass bowl and I have actually been shopping the discount stores to see if I could pick up a cheap one (after all, it's just for this experiment). No luck so I decided to use the only clear glass one I have, which has etched ridges all around it.
I finally, after some trial and error and quite a bit of errant water, got myself set up. I put a piece of stationery under the bowl that was a mottled light blue and white. And I started snapping.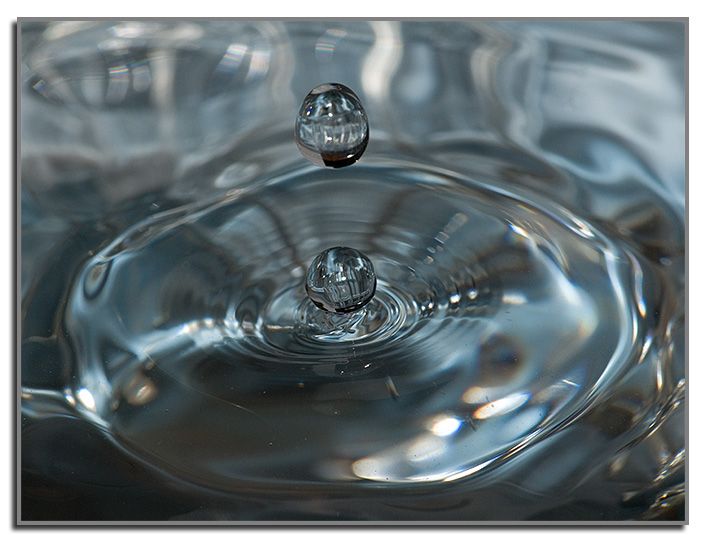 I like this next one because the etching shows up in the drop (as it does in many of these).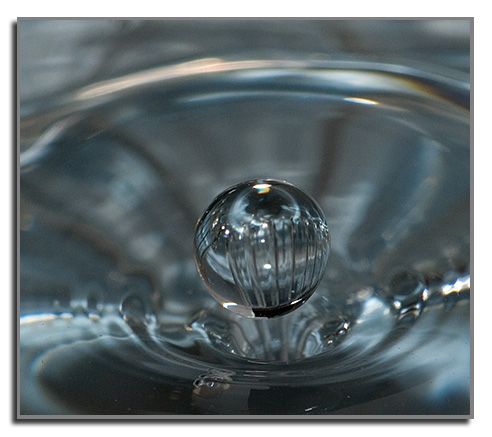 This activity is very addictive and hard to quit once you get going. I ended up with 65 photos, which I finally culled down to the ones I am posting here. Anyway, after lots of blue ones, I took that paper out and put one that was black with a green graphic on it underneath the bowl.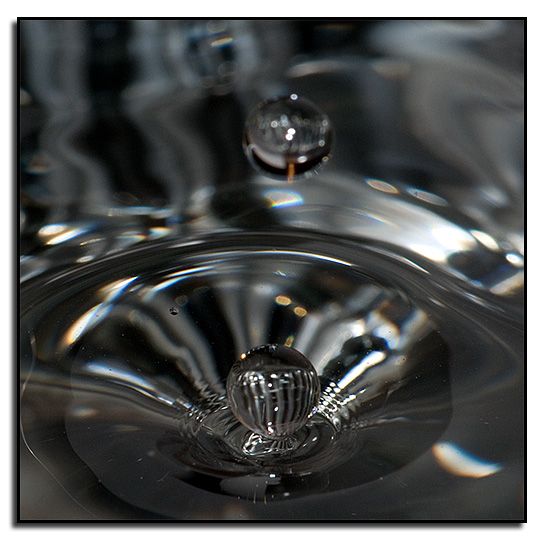 I call this next one Birth of a Drop, because of the way it is just emerging from the surface. Note the stripes caused by the etching.
Next I decided to try it with just a white paper under the bowl, to make the water look like, well, water.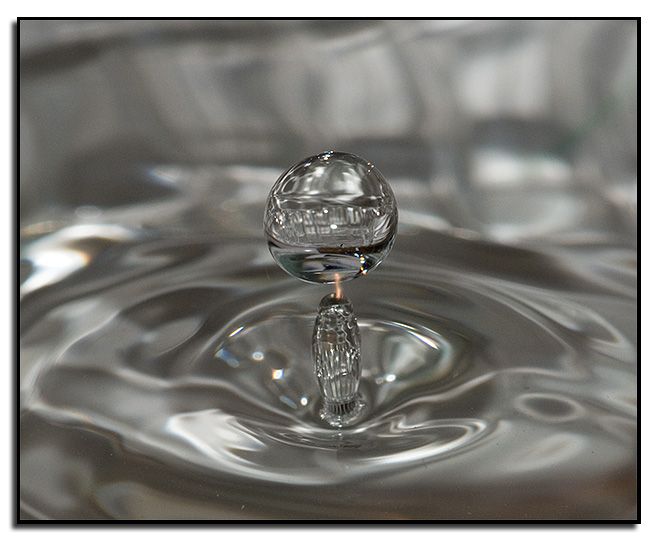 I love the way the two drops in that one above look like they are connected by that orange reflection. If you look closely at this next tower of a drop, you will see a little tiny drop inside the top of it!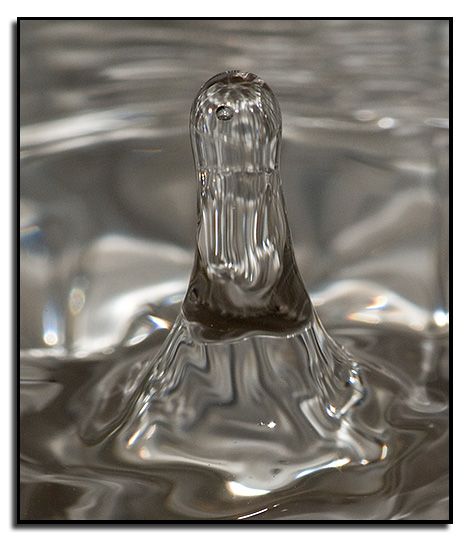 I was on a real roll now. I went to our spice cupboard and started flinging stuff out of it looking for some old food dye that I was pretty sure was still in there somewhere. I found it, it was green (probably to make frozen daiquiris more festive looking...). First I tried just putting a little where the water drops were falling, but that didn't do much. So I just dumped a whole lot of it in at once. That was dramatic.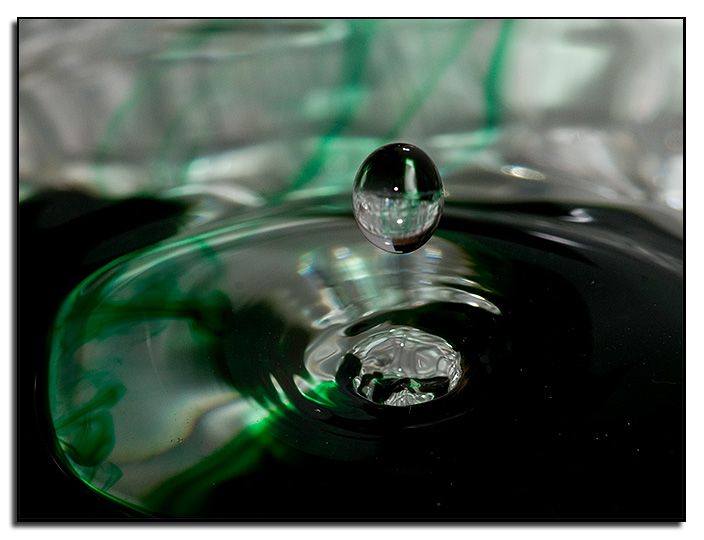 After that one, I stirred it up a bit to make the color more evenly distributed. I finally got one with the crown effect.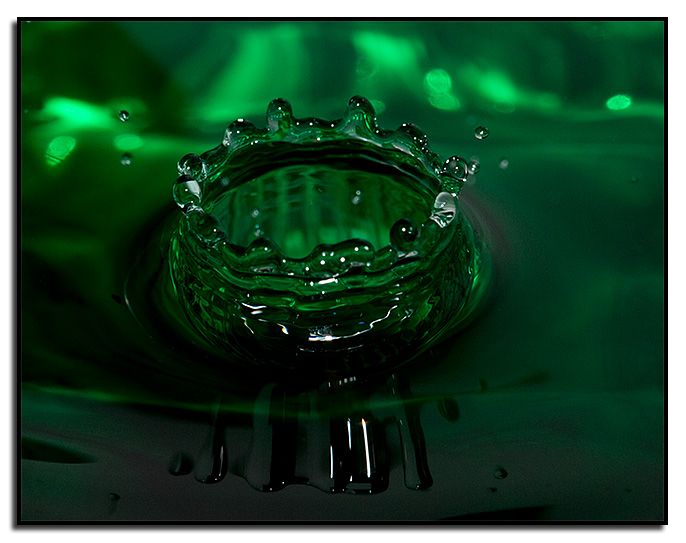 I got a second, similar one later, with the drops flying farther out from the center.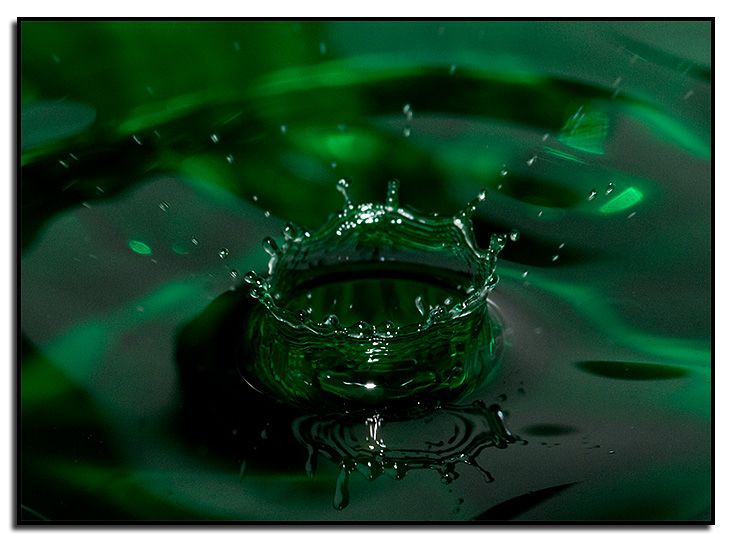 One last one before I tore myself away to start processing them.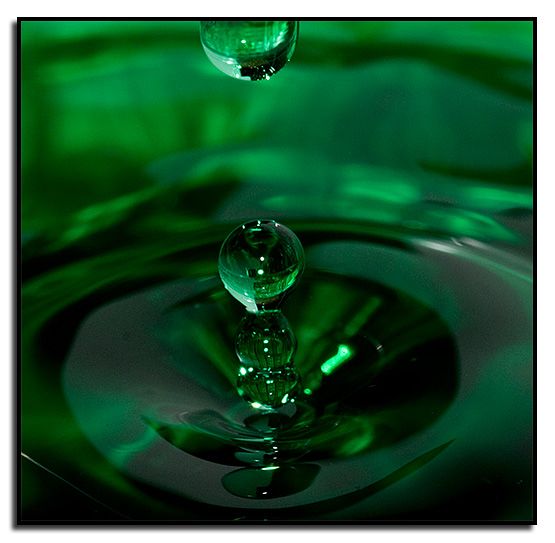 I have several things I want to try, but I wanted to get these posted today. I want to get a bigger bowl and experiment with dropping larger things into some liquid. I also want to experiment with inserting images into the drops--I've seen that done and would like to try it. I can use these images to practice with. I'll be back if I have any luck with that!
Taking these photos was very fun--if you like photography, you really have to try this!