It was time to have a little short getaway to someplace nearby; the cold weather we have had combined with the demands of puppy-raising have kept me at home. So off I went for an overnight in Panama City.
I stayed on the east side, very near St. Andrews State Park. That was my first stop after checking in. The day was oddly hazy and so photos were few and far between during the hours I spent there. I was lucky to encounter some deer that were moving through the park, and I took several photos of them.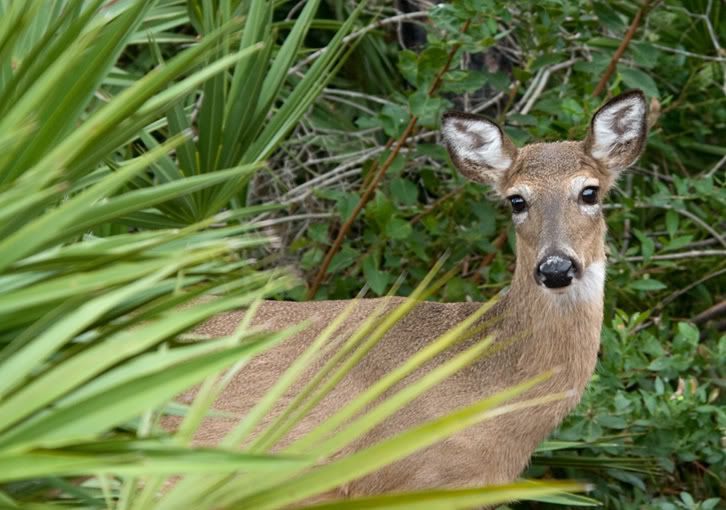 ---
I didn't stay long that day. I went back the next day, which was wonderful--sunshine and blue sky and warm temps. This was more like it! My first stop was a viewing platform that overlooks a small pond. There was a gorgeous great blue heron sitting on a nest on an island in the middle of the pond. Unfortunately it was a tad beyond the range of my lens. There are many signs around this area warning people about the resident gators. If you read my paddling blog, you can understand that I was not interested in seeing gators--I see plenty of them on my paddling trips. I did see something fantastic as I was walking on the boardwalk to the viewing platform. A little brown bunny just grazing away in the sand right next to the boardwalk! It took me a moment to comprehend what I was seeing. A bunny??? I happen to be extremely fond of bunnies.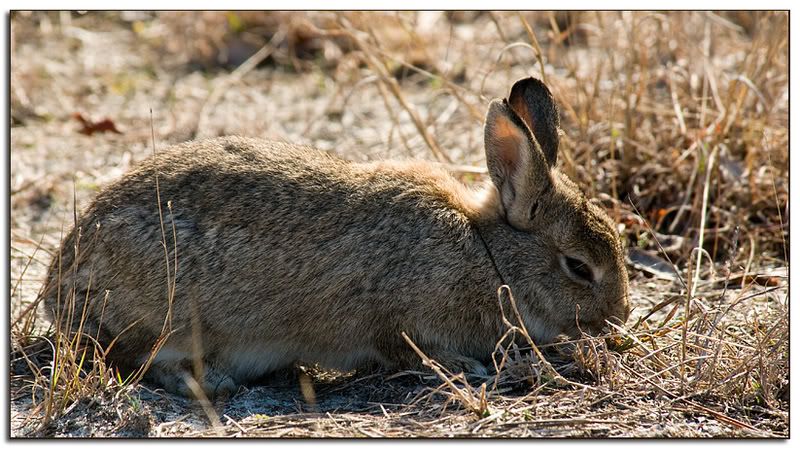 On my way back to the car, someone called to me "There's a gator over there!", indicating the pond edge. I said something along the lines that I spend a lot of time around gators. I wanted to say "There's a BUNNY over here!" but somehow I had a feeling that would not stand up to the excitement of their seeing a gator. So when I got back near my car, the bunny was very close to the parking area, which was alarming. I thought if I just walked near it, it would run back to the sand (and toward the gator....hmmm, gator or cars, which are more threatening?). It didn't seem to mind my being there. I reached down, figuring that would scare it away from the cars. It held still and I was able to pet it for a moment! Totally strange. I got it somewhat away from the cars, and when I started mine, it scared it back to the sandy area. I have spent a lot of time in state parks--never seen a bunny before.
I went to the beach area and watched the surfers for a while.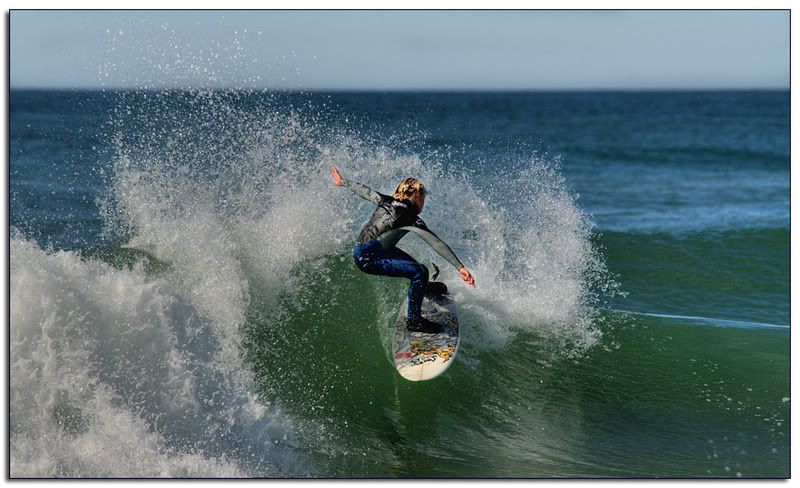 ---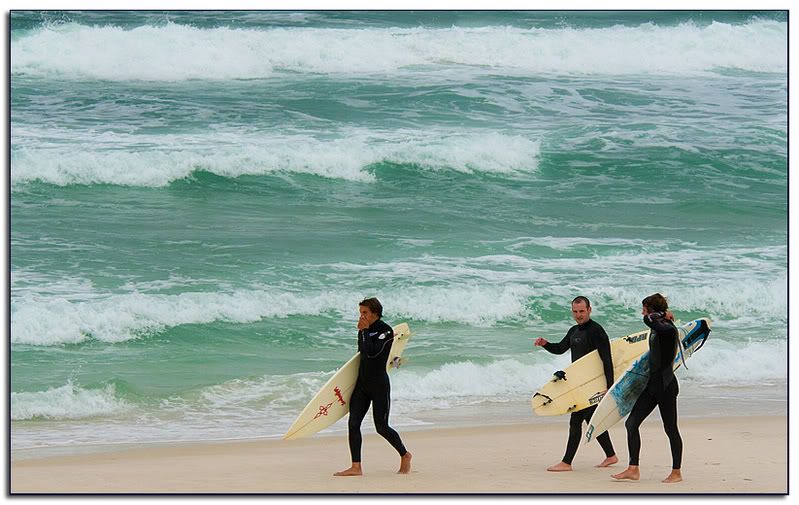 I walked around the beach area, taking photos.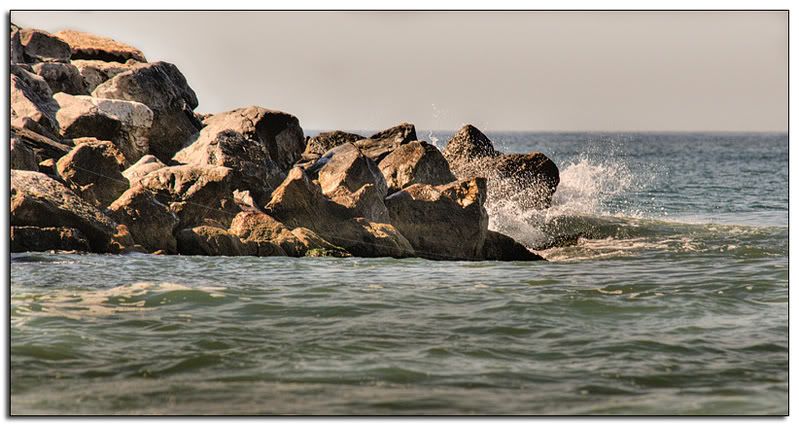 ---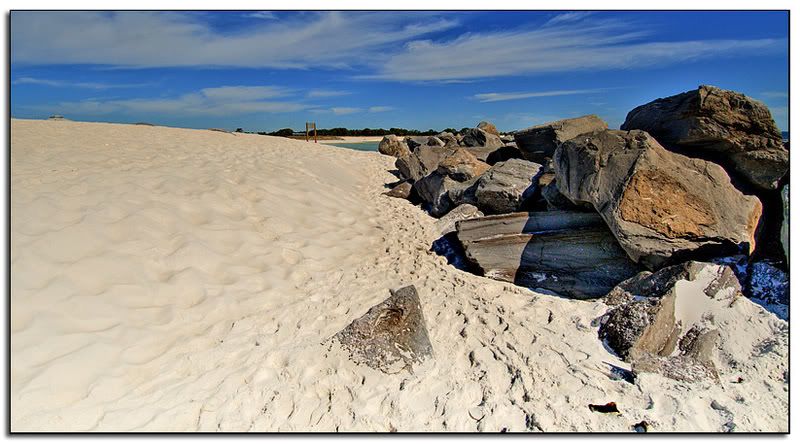 ---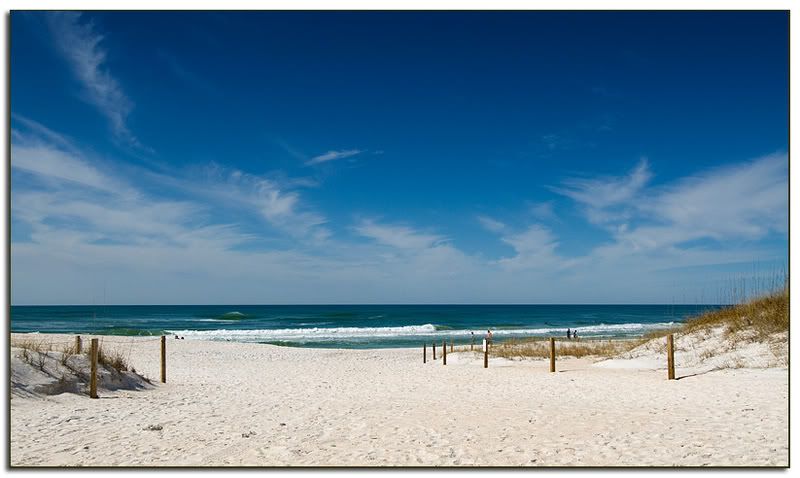 Before I left, I visited the boat ramp area, where I saw this juvenile brown pelican.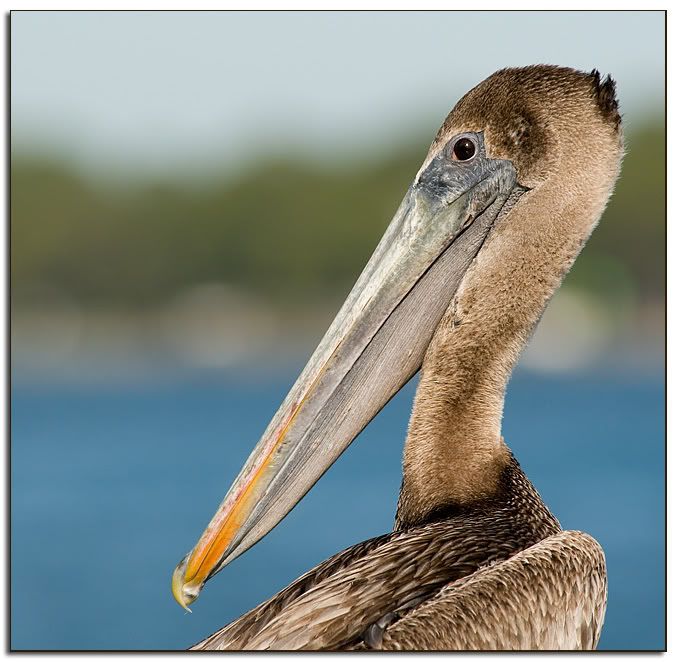 I was away from home only a little over 24 hours, but it was a very enjoyable break!