Just got back from a rainy trip to the Smokies. Despite the daily downpour, I managed to get out and about and get some photos (what a surprise!).
I got to the campground and set up and was free to drive around by about 3:00 (campground info and photos at
Camping Tent Tales
). I decided to visit the Deep Creek recreation area, which was nearby, and which had several waterfalls. (
Here's
a little something about the area.) I hiked up to Juney Whank falls, which was a good workout to get to a fairly minimal waterfall, but perhaps the drought conditions have made it less than usual.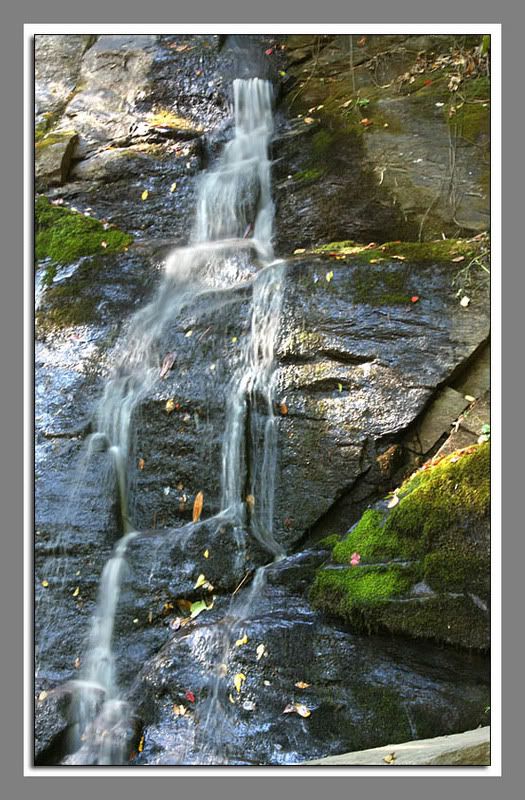 I visited the campground there and made note of a few good tent sites, just in case I need an alternative to where I was this time (which was ideal). While there I also walked around and enujoyed the stream views.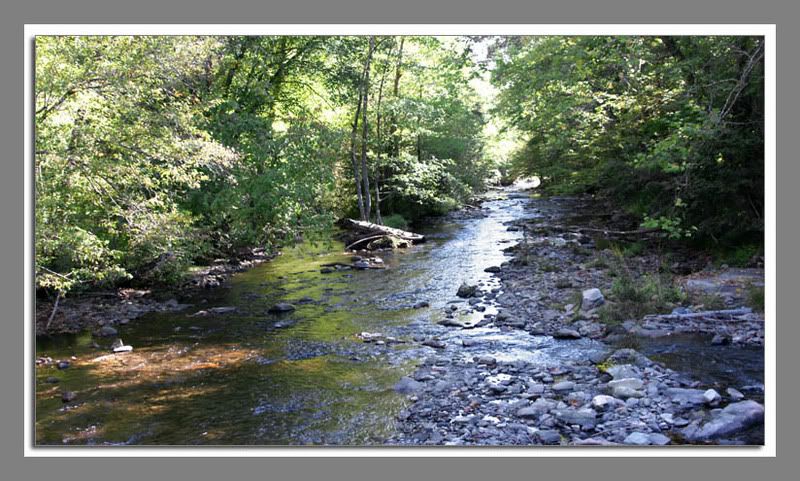 That was about as far as I got that day, which was the only day with sunshine.
The next morning I got up and decided to take a drive into the Smokies. I have been talking about going to
Clingman's Dome
, a very high spot, for a long time. And what's a visit to the Smokies without at least driving through the town of Cherokee?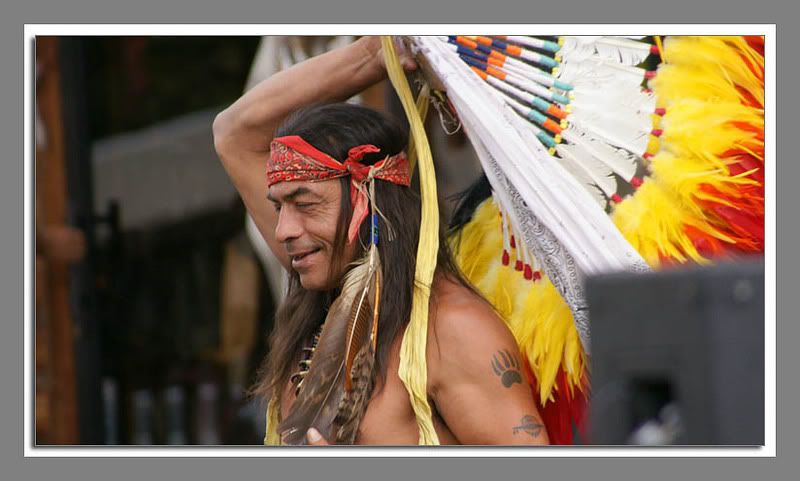 I stopped at the visitors center to get a map, and then continued on. This was the trip on which I was going to practice long exposures of rushing water, and so when I saw a river rushing over rocks, I pulled over and set up the camera and tripod.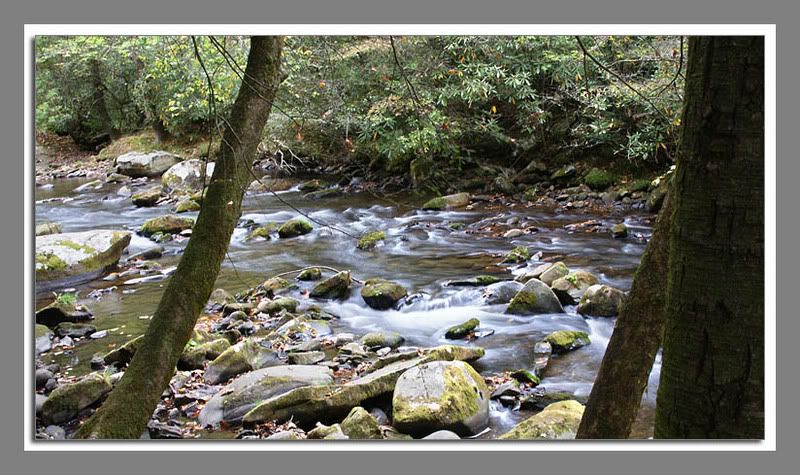 Next stop was Mingus Mill, a working gristmill.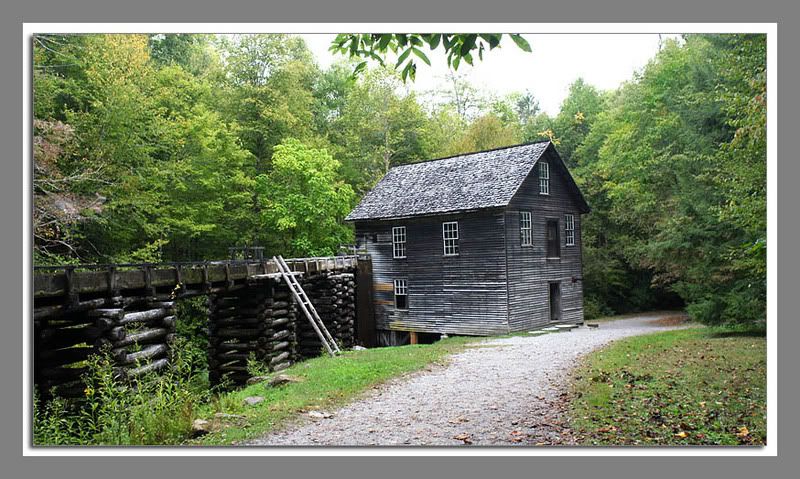 As I was walking back to the parking lot, I spotted another small water-over-rocks area.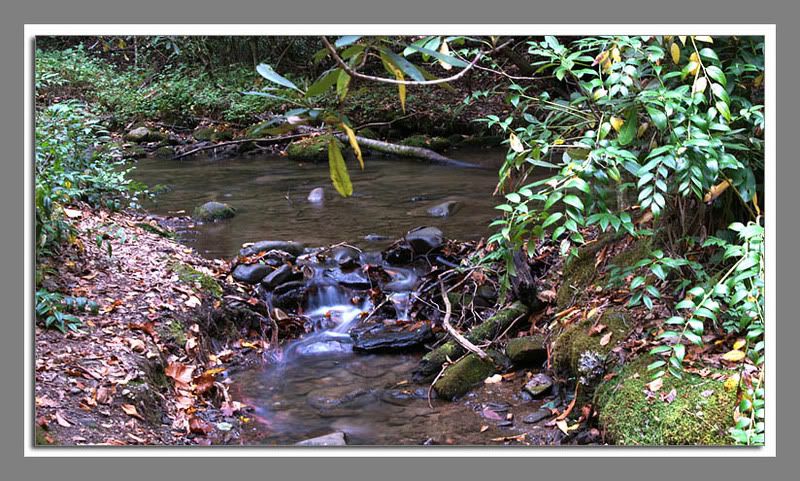 Nearby was a trail disappearing into the woods.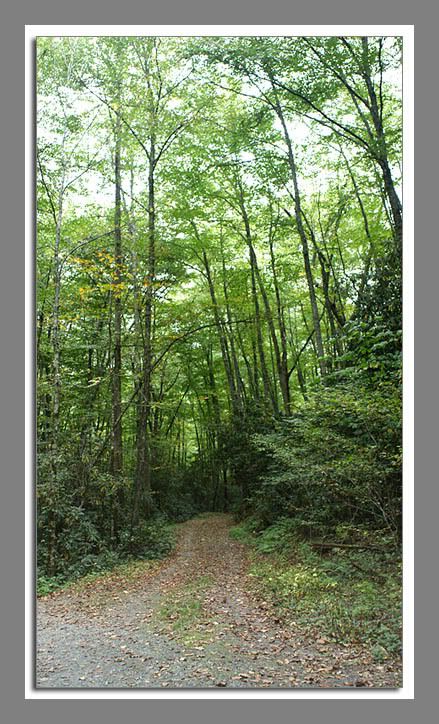 I stopped at a long pull-out place to photograph this part of the river. This one crow would not move, no matter how close I got, so it ended up in every photo.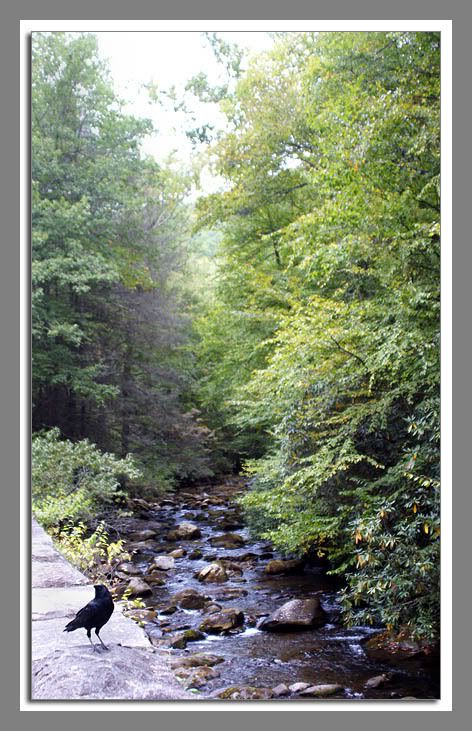 And then I turned the camera on the bird itself.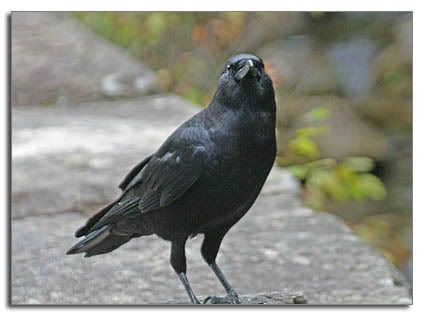 I continued on my drive. But the higher I went, the closer I got into the clouds, and the more mist and rain there was. I had this goofy idea that maybe Clingman's Dome would actually be
above
the clouds, which would be very cool. So I pressed forward. Unfortunately, when I got to Clingman's Dome, it was socked in with fog from the cloud that surrounded it and I could see nothing. It was cold, wet, and drizzly. The Appalachian Trail passes right by there and I was going to get a photo of it and maybe leave some sort of rock formation for Stacie, just in case she gets to this point on a hike some day, but the short walk to the trail seemed fairly treacherous/slippery under such wet conditions so I passed on that plan. I drove back down the mountain and back to the campground to see what I had forgotten to put under cover and that now would be soaking wet. I stopped on the way to get another bath towel to replace the one that was "drying" over the back of my lounge chair.
The next day I got out and about before the rain came, this time to drive the Blue Ridge Parkway. I was able to get some mountain vista photos.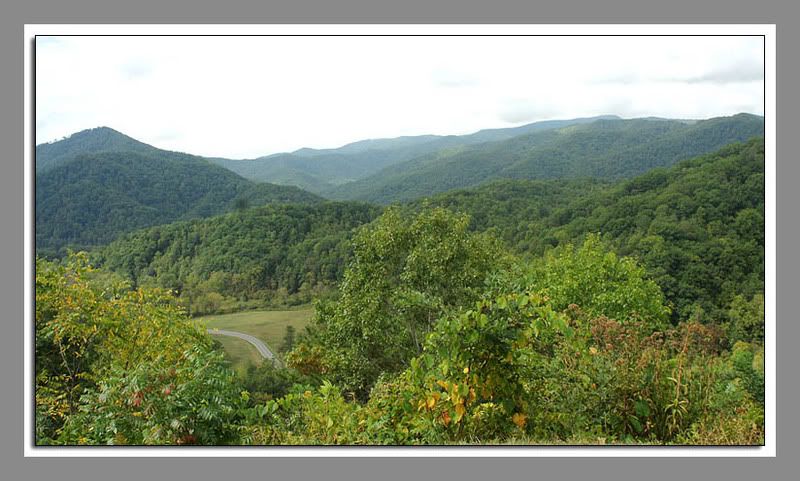 ----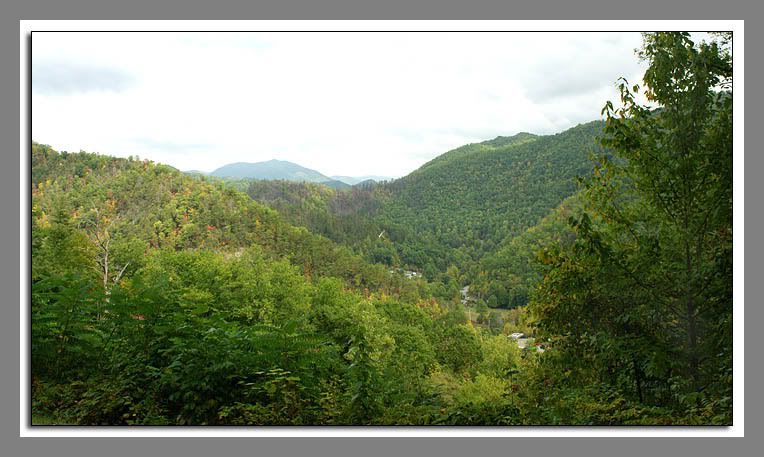 ---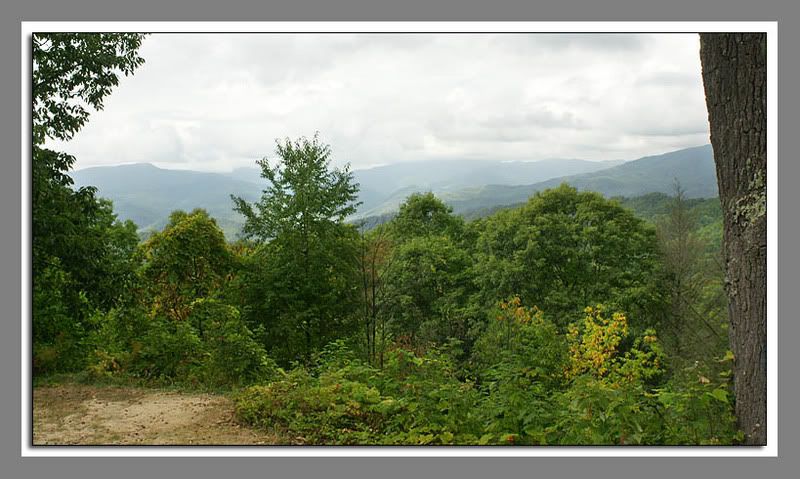 ---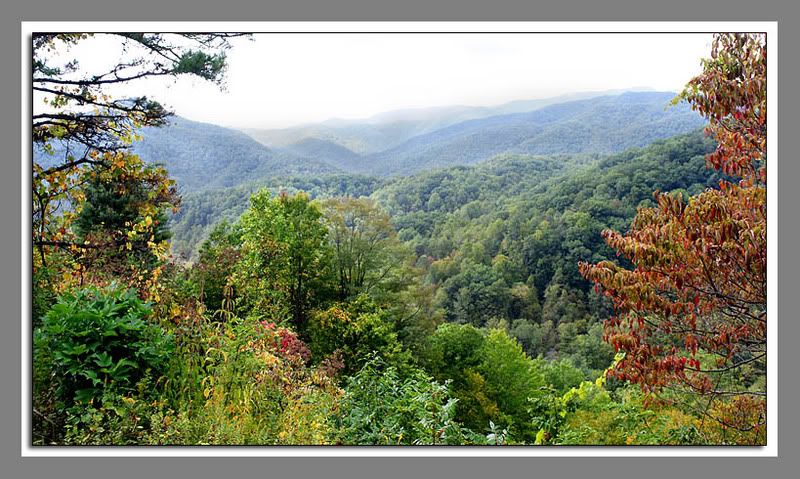 I turned around, not wishing to get back into the same driving-in-the-clouds deal of the day before.
I was too early this year for any fall color, except for this little spot along the drive back down the mountain. I pulled into the overlook and then walked back to get this photo. (It would be so nice if even
one
photo had blue sky instead of white or white and gray...)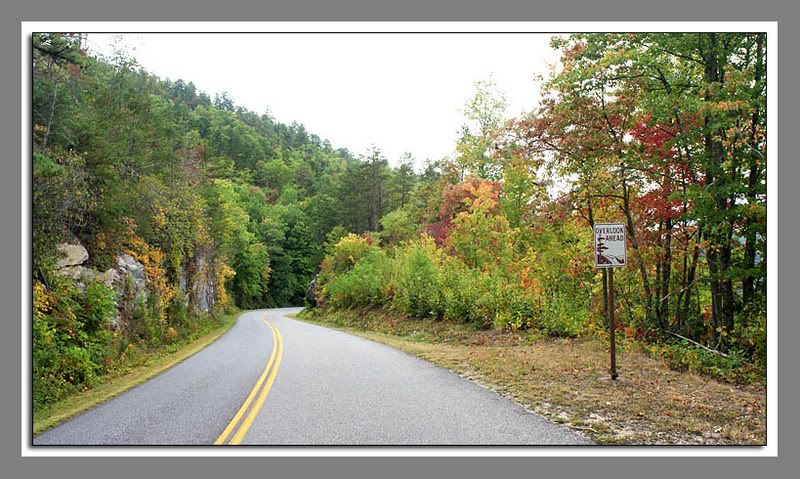 Here are the rocks on the other side of the road.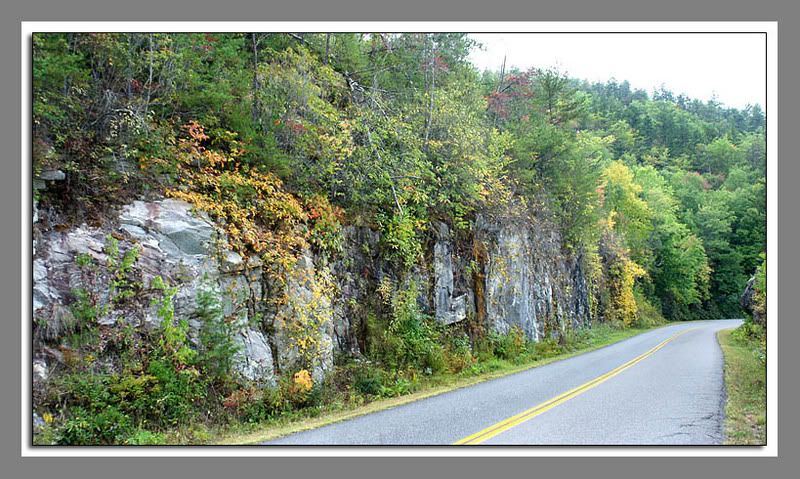 When I got near the bottom of the drive I was able to get one more photo of the cloud effect that sets in whenever it rains.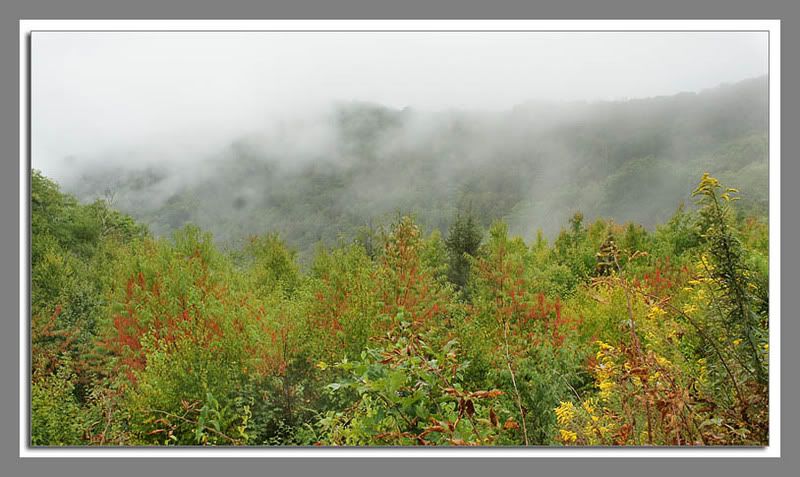 So, while the weather made this a less-than-ideal trip this time (I visited this area last October and it rained solidly for 4 of 5 days, I sense a trend), I had a great time and enjoyed the scenery immensely. I'm not sure if anyone out there is patient enough to wait for all these photos to load, but thanks for stopping by, however long you stuck it out!