I recently got a new lens for the camera and I have been eager to try it out. No paddling trips planned in the next several days. I had to go to Madison, a small town near where I live, to get some heartworm preventative for my dog from the vet's office and some coffee and salad mix from the Winn-Dixie, so I decided to take the camera and see if there were any ducks on Lake Frances. This is a very small lake right in the middle of town, completely surrounded by homes and businesses. Interestingly, though, I have seen wood ducks (males, no less!) on the lake. While it wouldn't tell me how the lens will do on paddling trips, it could be a reasonable simulation of one. If, that is, there are still any ducks on the lake. I haven't been there for a while.
I parked at the edge and started my walk around the lake. Here's what it looks like.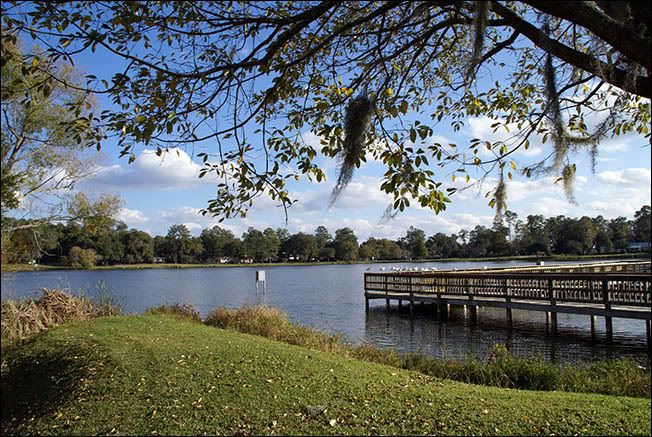 Notice the line of white birds on the railing of that dock area. Much to my amazement, those are all ibis—the largest bunch of them I have ever seen in one place! And on a lake with constant vehicle traffic circling it. Very strange indeed. I moved in for a closer look and to take a picture.

I walked around the rest of the lake. There were some ducks in the middle that may have been female wood ducks. There were two cormorants as well. And this egret poking its neck out of the grass along the edge.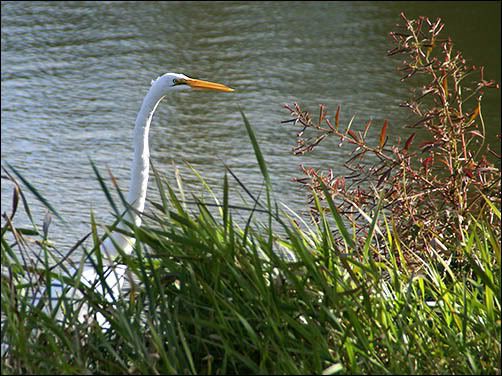 I didn't expect to get any pictures worth posting in here today—this was a nice surprise.
I like the lens, but with a possible caveat. It has the ability to go from wide-angle to zoom, which means not having to change lenses, but I sacrifice some zoom power. I'm withholding my final judgment on it until I can get it out on a river under the usual conditions.