We decided to take a drive up to the Birdsong Nature Center today to look around.  It was a 
beautiful day for it, clear blue sky and warm sunshine. Birdsong is situated on over 500 acres
and offers 11 miles of trails. If you go, be sure to get a map; the trails are not well marked
and it would be easy to get lost! We decided to head out toward the Farm Pond, which a woman
in the office told us was the only pond on the property that currently has water in it.
The main pond was on the left when we reached it. This smaller pond was to the right.
We had the place nearly to ourselves but did encounter a family near Farm Pond. They pointed
out a gator on the other side of the pond near the edge. We didn't have binoculars so
couldn't make it out.
Bushes with little white puffs on them were plentiful along the shoreline of the pond.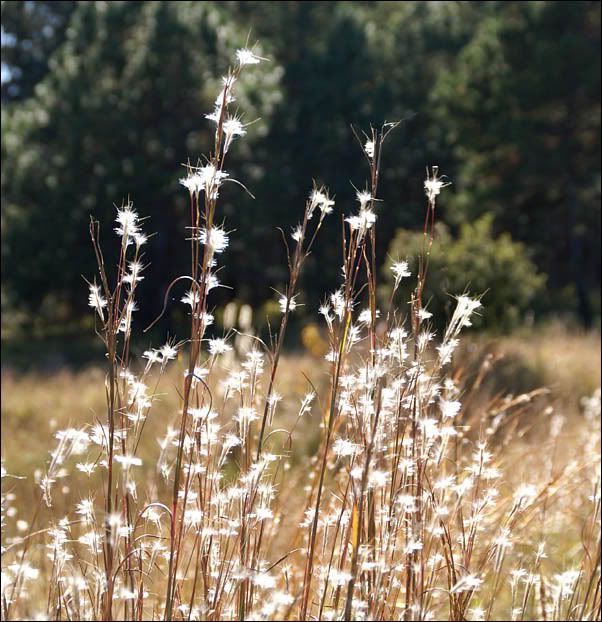 The trail was wonderful--well-maintained and very scenic. This tree was showing off the fact
that there is some degree of fall color in south Georgia!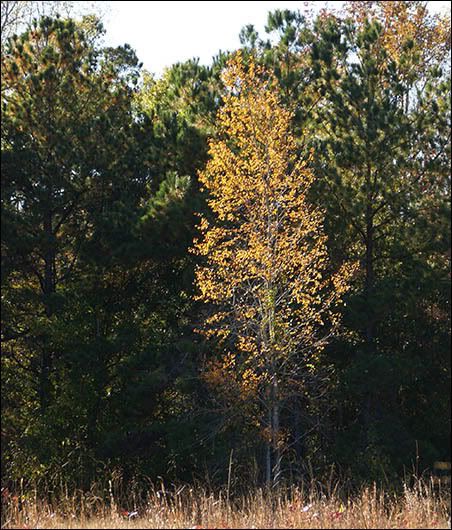 We encountered several other trees showing off fall color. It's too bad the only color in fall down
here is yellow... but it's pretty!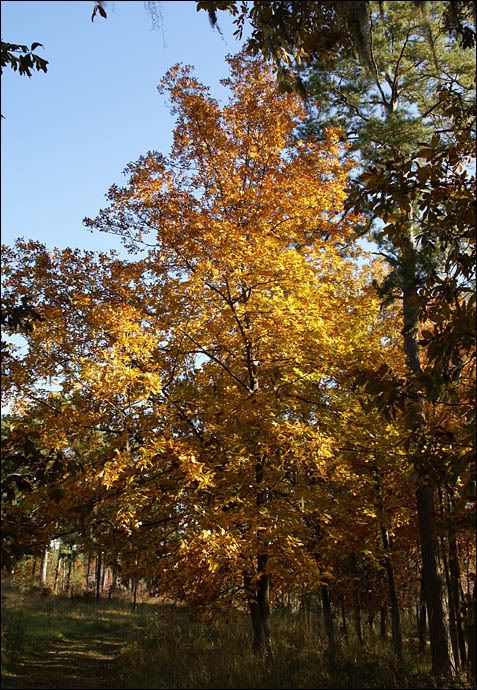 ---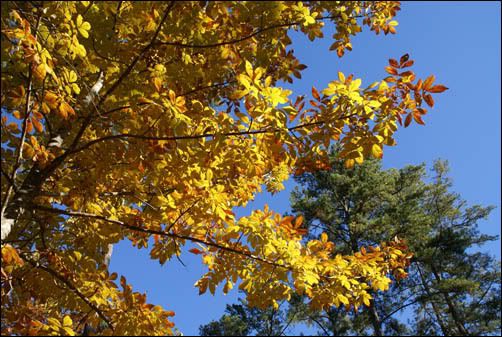 Soon we came to what the map identified as the "Listening Place." This is actually a wonderful little building. It is completely screened in and has many wicker chairs in it, as well as a fireplace and a camera tripod (!). The brochure for Birdsong indicates that this pavillion looks out on swampland that is home to alligators and otters and shorebirds, but, like the ponds, it was dry as far as the eye could see. But what a beautiful and peaceful view it offers. Here is how it looks as you approach from the trail.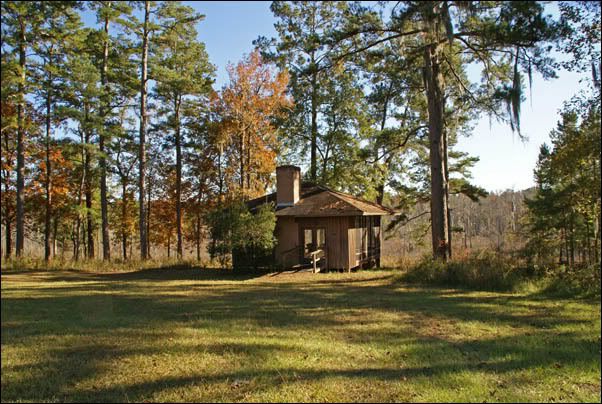 Shortly after we left there and continued on the trail, a large buck deer darted from our left and crossed the trail in front of us and ran into the woods to the right. This was the first time I have ever seen a deer with antlers in a natural setting, so that was pretty neat. I tried to get a picture but it was moving too fast and was behind trees by the time I got the camera up.
The property is loaded with bluebird nestboxes and the woman in the office told us that many bluebirds had been born there this year. I hoped to see one but no such luck. She said the best time is in April, when they are nesting and can be seen near the nestboxes.
Near the entrance is a white house which contains what they call the Bird Window. This is a wall-size window that looks out on a scenic backyard vista.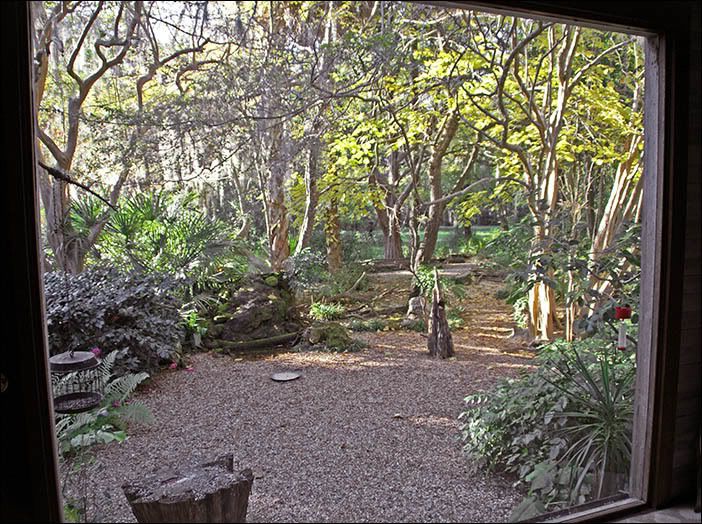 There is a water "mister" (thing that creates mist) in the rocks, and a shallow pool below.  A large bluejay landed briefly on a branch but was gone before I could get a picture of it. I did capture this tufted titmouse nibbling some seed that they had poured onto a stump.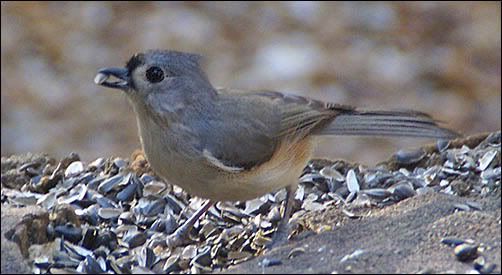 (A less-than-ideal picture since it was taken through two panes of tinted glass.)
This is a great little nature center. Its sign by the road (Meridian) is very small--in fact we missed it and had to turn back. The Birdsong website is
http://tfn.net/birdsong/index.htm
. They have a cute little gift shop and in fact we purchased a birdfeeder there that might just work to thwart the squirrels that invade our present one.  They charge a somewhat hefty $5.00 per person admission to non-members, and yet a single membership is only $25 and comes with two free one-time guest passes.  My only suggestion to them would be to put more benches on the trails, since songbird-watching often involves long periods of sitting, and they have provided no accommodation for that.